Britain – The UK grocery store chain Tesco has been accused of being "extraordinarily and unnecessarily ignorant" for suggesting alcohol makes Good Friday "better".
Tesco, Britain's largest grocer, was pressured to apologize over a Good Friday beer advertisement after they were attacked by offended consumers.
The advertisement, which was printed in newspapers in the days leading up to Easter read: "Great offers on beer and cider. Good Friday just got better."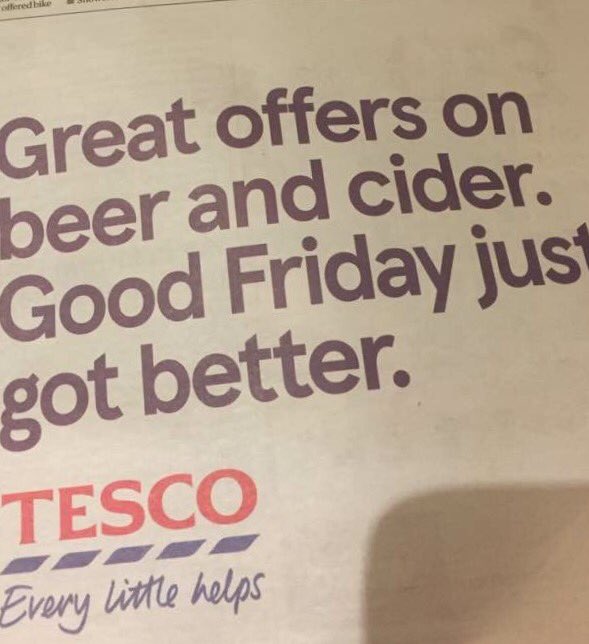 A Tesco spokesperson stated, "We know that Easter is an important time of the year for our customers. It is never our intention to offend and we are sorry if any has been caused by this advertisement. We will not publish it again."
Of course not everyone was offended by the advertisement though and through social media other consumers made it clear they had no problem with it.
One user posted, "Religion causes offence to many too. Shall we ban that?"
Another said, "Like it or not the Easter is also a secular holiday as well as a religious one. Most are travelling to families rather than to church."
UK has also been been slammed recently after reports that the chocolate makers Cadbury and Nestle removed the word 'Easter' from their chocolate eggs.
But both companies insisted it simply wasn't the case and the word Easter still appears on many of their egg packs.
If an ad similar ran here in the United States would you be offended? Vote in our poll and let us know!
[socialpoll id="2435019″]